Rosa - Owner & Head Pastry Chef
At the 30th year anniversary of Beverly Hills Bakery, we wanted to share the incredible personal story of owner and head pastry chef, Rosa de Souza.
Rosa's story is one of a young migrant and refugee displaced by political turmoil. Born in 1951 in Tanzania, East Africa at the foothills of Mount Kilimanjaro, Rosa was part of a large family of seven children. Her parents were immigrants from Goa, India, who had left their home in search of a better life in Africa. They lived in a simple house with very few luxuries but believed in an open-door policy, offering food to all that visited.
Rosa's love and passion for food started early by watching her mother cooking and baking with different wood fired and charcoal ovens – traditional open fire cooking. Rosa would help her mother bake an array of different cakes: fruit, sponge, semolina and Goan traditional cakes.
Rosa's first job was as a teenager in the local store, where she met her future husband, Angelo de Souza, also from a Goan and Greek immigrant background whose mother was the granddaughter of the Sukuma Chief (largest tribe in Tanzania). Angelo's father, Manuel de Souza, worked as a tailor but had a passion for gem prospecting and would disappear months on end in the African bush looking for rubies and sapphires, leaving his family in economic constraints. However, in 1967, on one of his many prospecting expeditions, he discovered a new gemstone, later to be named Tanzanite, his "impossible" dream fulfilled and the destinies of his family changed forever.
Following the discovery, delegates from the gemology field and journalists from leading international publications descended on Arusha, to view the new gemstone. Rosa found herself 'earth cooking' and baking for visitors in the mining camp including Henry Platt, the then Director of Tiffany's jewellers and in wanting to impress him, she baked her first American brownies.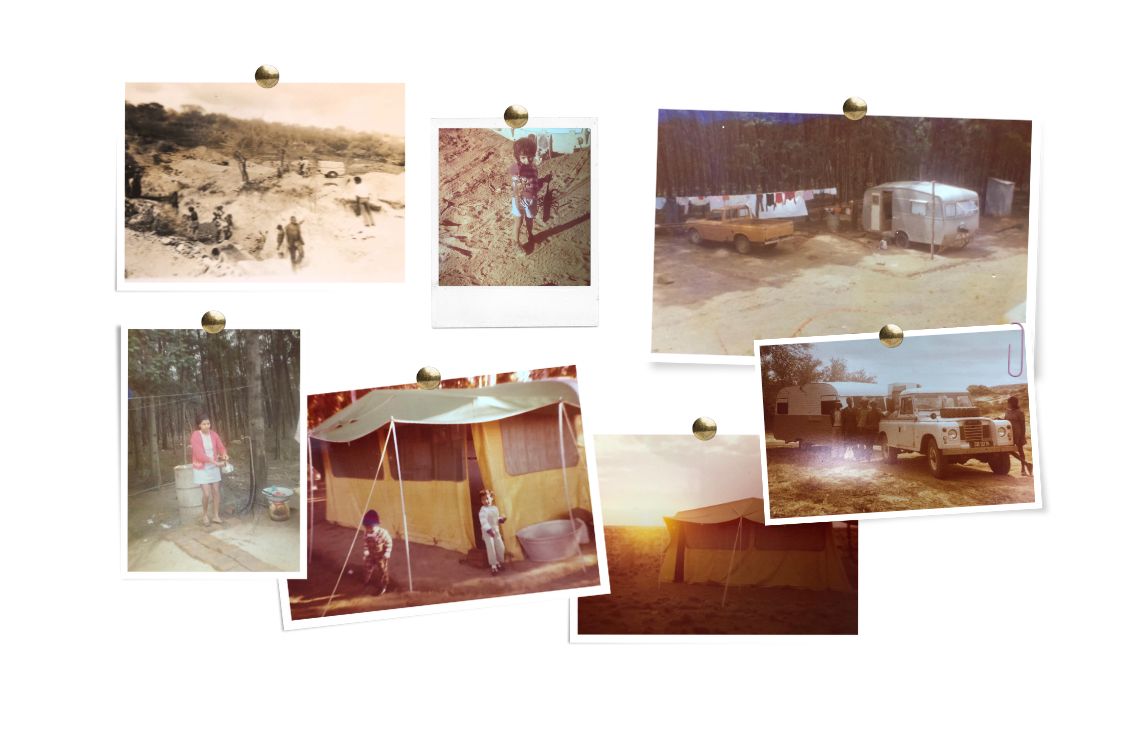 This exciting time was not to last. In 1971, the Tanzanian government nationalised the family's Tanzanite mines and took all their assets, forcing them to flee Tanzania, across the border to Malawi and then to neighbouring Mozambique. By this point, Rosa and Angelo had married and were parents to a little girl.
In Mozambique, Rosa learnt to bake traditional Portuguese custard and rice cakes and rice pudding desserts. In 1973, she gave birth to a son.
Unfortunately, by the end of 1974, Mozambique had descended into the beginnings of a civil war, and Rosa and Angelo, aged 23 and 25 respectively were forced to flee. A double agent of the Portuguese government was hired to drive them as close to the border with South Africa as possible. With nothing but the clothes on their backs, they crossed the final distance on foot, surrounded by the smell of burning, destruction and death.
Once they were at the South African border post, they faced the immediate problem of entering the Apartheid regime as they could not be transported or housed with fellow white refugees and were thus sent in a prison vehicle to a mixed-race camp.
They spent six months at the refugee camp where Rosa quickly assumed kitchen and cooking duties, learning how to feed the entire camp with Zulu food and Angelo, through his Tanzanite mining experience, Geology diploma and knowledge of many languages, got a job with Anglo American, a major global player in the mining industry.
This resulted in years of travelling extensively throughout South Africa, Namibia and Botswana, in a convoy of caravans, prospecting for uranium. Rosa extended her knowledge and expertise of cooking and baking in challenging conditions by using ant hills as ovens to grill fish and bake bread.
On their children reaching school age, the family based itself in Cape Town – a city offering Rosa culinary access to a wide variety of baking ingredients. Rosa learnt to make English scones, jam tarts, fruit cakes, trifles and Dutch rusks and biscuits. Living a peaceful life but with the backdrop of apartheid looming they decided to join Angelo's siblings in Denmark in 1979, where they had been granted asylum.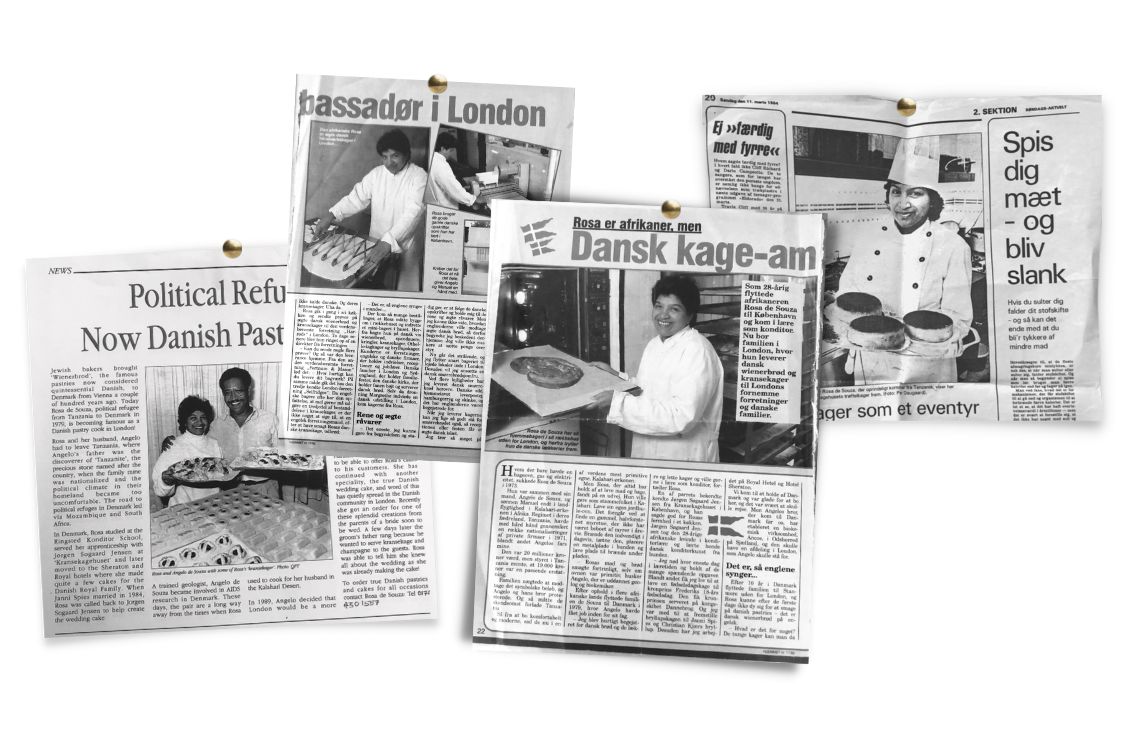 The next ten years in Copenhagen, Denmark were magical for the family. The children grew up in a society that valued everyone equally, and Rosa was finally able to officially recognise her love for baking and enrolled in a three-year internship programme to become a Konditor (Danish Pastry Chef).
She was incredibly fortunate to work for one of Denmark's leading Konditors, Jorgen Sygaard Jensen, who owned the Kransekage Huset in a very fashionable part of Copenhagen. She excelled throughout her training and after completing her diploma, went to work for the Sheraton Hotel and the SAS Royal Hotel, where she made cakes for Danish Royalty, Petit Fours for Queen Margrethe and baked for the Crown Princess' 18th Birthday celebrations!
In 1990, with both children finishing their studies in London, Rosa and Angelo decided to join them for a new adventure and Rosa started a small bakery wholesale operation. She gathered recognition as a high-quality patisserie partner and became a daily supplier to London's leading luxury department stores (Harrods, Harvey Nichols, Fortnum & Mason), as well as for Seattle Coffee Co, Coffee Republic, leading London luxury hotels and also working alongside Chef Mossiman and Nick Jones at Cafe Boheme.
In 2001, Rosa and the family shifted the focus onto the retail trade, using the newly created website, www.beverlyhillsbakery.com, as the forum to drive growth, adding new product ranges and offering worldwide deliveries. The company's sales exploded with the internet boom of the early 2000s.
Beverly Hills Bakery (BHB) has delivered gifts to all the UK prime ministers of the last 20 years, and it has also been a pleasure to provide gifts for the Royal Family and Royal Births, as well as to music, film, TV and sports stars, not forgetting that we helped provide much needed energy bursts to the Prince's Trust "Party in the Park", Wimbledon, Capital Radio Summertime Ball, West End Shows and exhibitions at the O2.
30 years on, Beverly Hills Bakery remains a well-established high quality London based brand that continues to make and deliver handmade, freshly baked gifts across the world via gift basket, gift tin or gift box – sweet treats for all occasions. Rosa at over 70 remains at the helm and has maintained her focus on ensuring exceptional quality, handmade, daily freshly baked goods to her own secret recipes. Her children and grandchildren remain actively involved in the business.