Allergy Information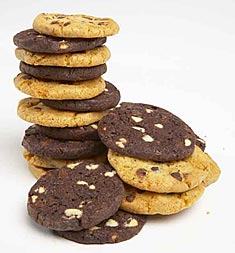 Do our products contain nuts?
You can check below on our ingredients list.
Although we try our hardest to avoid cross over during production, due to the nature of our bakery there is always a possibility that our products may also contain Gluten (Wheat, Rye, Barley, Oats, Spelt, Kamut), Dairy, Milk, Soya, Eggs, Mustard, Celery, Sulphites and traces of Peanuts, Nuts and/or seed or nut shell residue, Lupin and Sesame Seeds.
If you have any specific dietary/allergy requirements, please call the Bakery on +44 (0)20 7586 0070.
All our products contain soy through soy lecithin found in vanilla essence. Soy lecithin does contain trace levels of soy proteins and these have been found to include soy allergens.
All products are vegetarian.
| | | | | | | | | | | | | | | |
| --- | --- | --- | --- | --- | --- | --- | --- | --- | --- | --- | --- | --- | --- | --- |
| Product | Gluten | Milk | Eggs | Soy | Nuts | Lupin | Sesame | Peanuts | Crustacean | Mustard | Celery | Sulphur Dioxide | Fish | Mollusc |
| All baskets | • | • | • | • | • | | • | • | | | | | | |
| | | | | | | | | | | | | | | |
| --- | --- | --- | --- | --- | --- | --- | --- | --- | --- | --- | --- | --- | --- | --- |
| Product | Gluten | Milk | Eggs | Soy | Nuts | Lupin | Sesame | Peanuts | Crustacean | Mustard | Celery | Sulphur Dioxide | Fish | Mollusc |
| Red Velvet | • | • | • | • | • | | • | | | | | | | |
| Chocolate Cake | • | • | • | • | • | | • | | | | | | | |
| Triple Choc Cake | • | • | • | • | • | | • | | | | | | | |
| Red Velvet Heart Cake | • | • | • | • | • | | • | | | | | | | |
| Mini Cakes | • | • | • | • | • | | • | • | | | | | | |
| Tea Cakes | • | • | • | • | • | | • | • | | | | | | |
| Devils Food Cake | • | • | • | • | • | | • | • | | | | | | |
| German Chocolate Cake | • | • | • | • | • | | • | • | | | | | | |
| Truffle Shuffle Cake | • | • | • | • | • | | • | • | | | | | | |
| Carrot Cake | • | • | • | • | • | | • | | | | | | | |
| Chocolate Bundt Cake | • | • | • | • | • | | • | | | | | | | |
| Coffee Cake | • | • | • | • | • | | • | | | | | | | |
| Lemon Bundt | • | • | • | • | • | | • | | | | | | | |
| New York Cheesecake | • | • | • | • | • | | • | | | | | | | |
| Fruit Tart | • | • | • | • | • | | • | | | | | | | |
| Pecan Pie | • | • | • | • | • | | • | | | | | | | |
| Pumpkin Pie | • | • | • | • | • | | • | • | | • | • | | | |
| | | | | | | | | | | | | | | |
| --- | --- | --- | --- | --- | --- | --- | --- | --- | --- | --- | --- | --- | --- | --- |
| Product | Gluten | Milk | Eggs | Soy | Nuts | Lupin | Sesame | Peanuts | Crustacean | Mustard | Celery | Sulphur Dioxide | Fish | Mollusc |
| Romance | • | • | • | • | • | | • | | | | | | | |
| Gourmet | • | • | • | • | • | | • | | | | | | | |
| Red Velvet | • | • | • | • | • | | • | | | | | | | |
| Baby Blue | • | • | • | • | • | | • | | | | | | | |
| Baby Pink | • | • | • | • | • | | • | | | | | | | |
| Chocoheaven | • | • | • | • | • | | • | | | | | | | |
| Classic | • | • | • | • | • | | • | | | | | | | |
| Christmas | • | • | • | • | • | | • | | | | | | | |
| Rainbow | • | • | • | • | • | | • | | | | | | | |
| USA | • | • | • | • | • | | • | | | | | | | |
| Dream | • | • | • | • | • | | • | • | | | | | | |
| Easter | • | • | • | • | • | | • | • | | | | | | |
| Halloween | • | • | • | • | • | | • | | | | | | | |
| Fashion | • | • | • | • | • | | • | | | | | | | |
| Footloose | • | • | • | • | • | | • | | | | | | | |
| Cupcake Café | • | • | • | • | • | | • | | | | | | | |
| Priscilla | • | • | • | • | • | | • | | | | | | | |
| Truffle Shuffle | • | • | • | • | • | | • | • | | | | | | |
| | | | | | | | | | | | | | | |
| --- | --- | --- | --- | --- | --- | --- | --- | --- | --- | --- | --- | --- | --- | --- |
| Product | Gluten | Milk | Eggs | Soy | Nuts | Lupin | Sesame | Peanuts | Crustacean | Mustard | Celery | Sulphur Dioxide | Fish | Mollusc |
| All tins | • | • | • | • | • | | • | • | | | | | | |