Meet Me at the Cupcake Café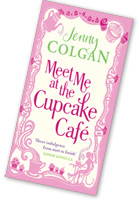 Beverly Hills Bakery is very excited to be involved on the launch of Jenny Colgan's latest book "Meet Me at the Cupcake Café". To celebrate we have created some delicious new cupcakes with wonderful designs, including handmade sugar butterfly and sunflowers!
We will be running competitions for free copies of the book and free cupcakes throughout the year....so keep an eye out!!!!
A bit about the book:
Having grown up in the flat above her Grampa's little bakery, there is little doubt that baking is in Issy Randall's blood. It is not until she is unexpectedly made redundant (with no word of warning from her boss - who is also supposed to be her boyfriend!) that she decides to take a leap of faith and opens The Cupcake cafe. Armed with recipes from her Grampa, and with her best friends and a dishy local bank manager behind her, what could possibly go wrong?
'Sheer indulgence from start to finish'
- Sophie Kinsella